Wolfenstein 3D Lego Sets
May 5, 2010

Wolfenstein 3D turns 18 today. Wolfenstein 3D is now of legal age!
You can now make maps in The Lego Wolf3D computer game. Mappers are needed.
I've played with Legos as a child. I look at Eric Harshbarger's Lego updates. Also, from The Wolfenstein 3D's Sweet Sixteen page, from looking at David Gregory's Mrs. Pac-Man ghosts and other creations in March at the Lugnet.com Lego show in Indianapolis, from The Lego Wolfenstein 3D computer game here, here, and here, I decided to do something with Legos for Wolfenstein 3D.
You can see the Lego Lucas Oil Stadium that I saw in the 9th Lego picture down here. You can watch 2 Youtube videos of The March 2010 Indianapolis Lego Convention with the Lego Lucas Oil Stadium here and here.
First read the Wired article about Legos where it's about the Lego Dream Factory, now Lego Digital Designer, and downloadable for Windows and Mac OSX here. It's about a 55 megabyte download. Patches are about 50 megabytes.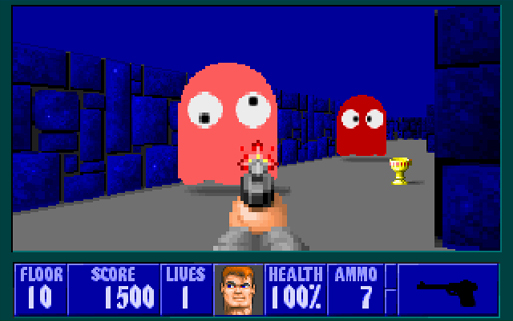 The Wolfenstein 3D Pac-Man secret level screenshot.
You can access the Pac-Man level from episode 3, level 7. Please notice that there's no silver key to unlock the door and you have to find the secret passageway.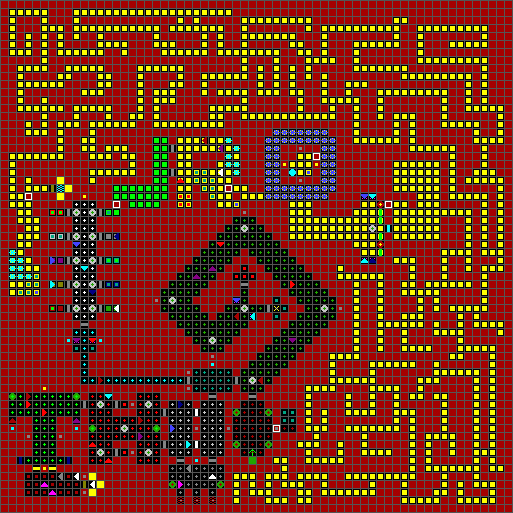 Episode 3, level 7 in ChaosEdit.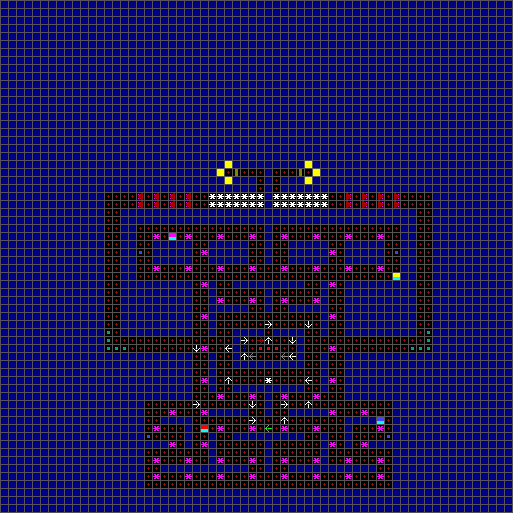 The Pac-Man level in ChaosEdit.
You can also go to different Pac-Man ghosts in "Spear Resurrection" on level 23 and in certain other Wolfenstein 3D or Spear of Destiny mods.
Here's the Wolfenstein 3D chalice that I made in Lego Digital Designer. It can't be bought because it has parts hanging in the air. To make it, I erased some of the pieces underneath the higher ones. Then I decided to call it quits on my plans to make the level on the same scale as the chalice. That would be too expensive and take up too much space.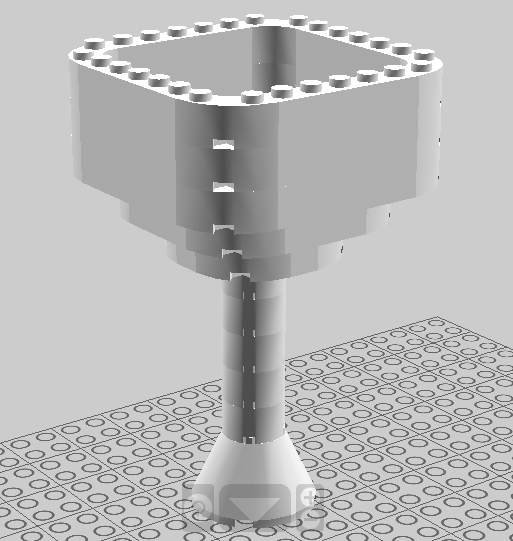 The large scale Wolfenstein 3D chalice.
There are new Lego sets that I made in Lego Digital Designer that you can buy through Lego. I don't work for Lego and I don't sell it. I only made it.
I had already downloaded Lego Digital Designer and the patches. The patches seem to be small files at about 50 megabytes. I like that the patches add new pieces, but they sometimes don't allow some older pieces that they apparently have run out of in their stock. On April 7th, I was working on the Pac Man level with the chalices. On April 8th, I downloaded a patch. Unfortunately, this patch deleted the 1 by 1 chalices. They also came in other colors too.
For the most part, I finished up the level on April 8th and 9th.
There's no way to make a rose colored ghost in Lego Digital Designer, so I made a white one with a clear top. However, I was able to make the blue, red, and yellow ghosts. I have at the top 4 white ghosts and 4 clear ghosts if you'd rather use them.
There's also no way to make the brown-uniformed soldiers unless possibly you go to Lego Mini-Mizer or Lego Buy-Me-Mizer, so I had to replace them all with Wolfenstein 3D policemen. Also, I had to turn them sideways because their arms take up space.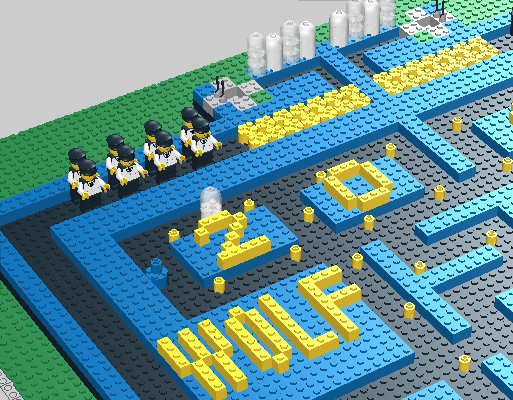 The 1 up, treasures, policemen, elevator, the ghost that isn't rose-colored, "2010" text, "WOLF 3-D" text, and 2 types of ghosts in the background for you to play with.
I didn't know what size 1 ups you'd want, so I put in both the 1 x 1 and 2 x 2 size cylinders and you can decide from there. I also didn't know what clothes you'd like for BJ Blazkowics, so I added in a clothing part that I thought would look like it came from Laz Rojas' PC and Macintosh Astrostein series in WolfenDoom.
Astrostein clothes?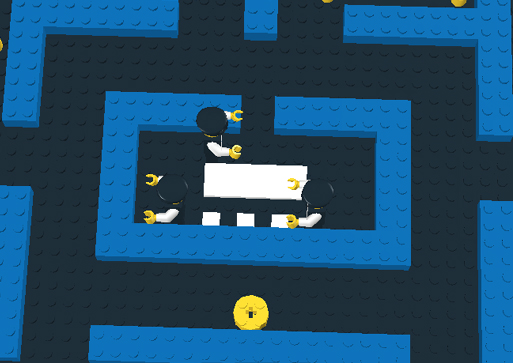 You can decide which of the 2 sizes of first aid kits that you want to play with.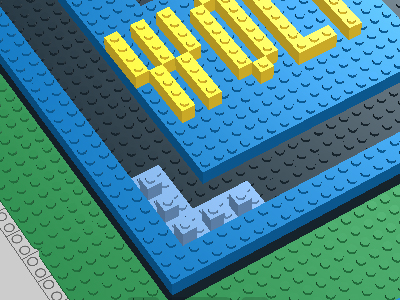 Use whichever size ammunition that you like the best.
Set A: All the pieces except the guns, which are unavailable from Digital Designer, will cost $484.37. That's without the instructions and box.
My guide wasn't generated by the computer to build in a very intuitive way. When you try to upload the file to make the box, you will sometimes get messages that, "The file can't be uploaded at this time." Then try it again minutes later.
Set B: All the pieces except the guns, and the 36 green 16 x 16 base plates cost about $340.37. You can save about $40 or $50 by using Set B and buying 9 green 32 x 32 green base plates from Toys R Us or Ebay.
Set C: All the pieces except the guns, the green base plates, and the expensive black bottom pieces cost about $180.86.
I'm not the one selling these, so don't get mad at me for these prices.
You can get the Lego gun for the Pac-Man level:
Go to Lego Pick-A-Brick.
Select accessories in the first drop-down box on the left.
Scroll down the page and select page 7 of 10 for the dropdown box.
Select "Nozzle W. Ø3.18, Shaft." It is 10 American cents plus shipping and handling. Maybe you might want to buy 19 more guns for all the policemen too. If they ever add another type of gun on the web site, then let me know.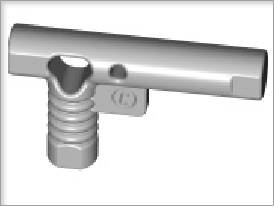 "Nozzle W. Ø3.18, Shaft."
You could also get a Lego gun made from a company independent of Lego at Brickarms, the megagun from Brickforge, Bricks w/o Mortar, Brickworld.us, Lugnet.com, Bricklink.com, Baylit, Peeron, Buy-Me-Mizer, Ebay, and whatever sites I might be forgetting.
If you want the green 32 x 32 stud flat base plates that are 10" by 10" that are sold separately, then go to Toys R Us or your local Lego store in The United States, The United Kingdom, or Germany. If that's not convenient for you, then type "Lego base plate" on Ebay.com. Or you could check Bricklink.com, Baylit.com, or Peeron.com.
For the Lego 32 by 32 stud flat base plate from Ebay, I did a search for "lego base plate."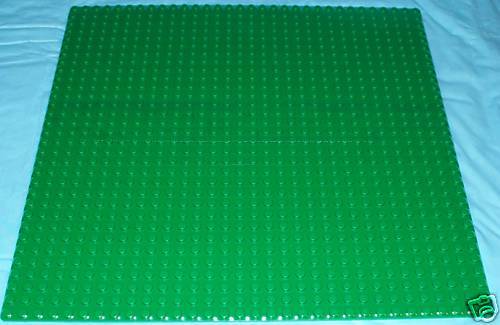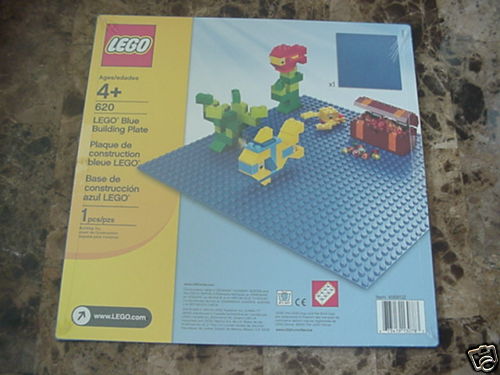 The Lego 32 x 32 stud green or blue base plate from Toys R US and Ebay.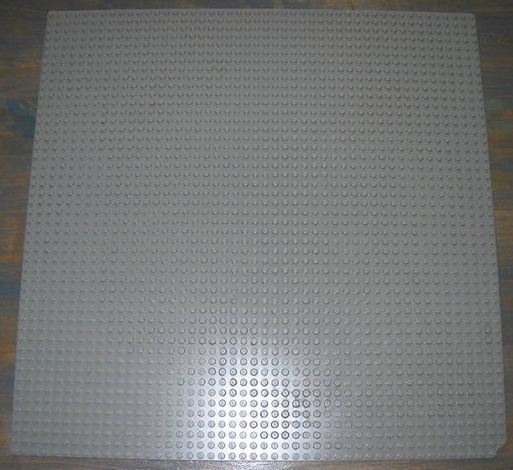 The Lego gray 48 x 48 stud (15" by 15") base plate from Ebay.
The largest green base plates are so popular, that it makes you wonder why they don't sell them in Lego Digital Designer.
Maybe you can save money by going with set C and buying black bricks from Ebay. Type in "Lego black bulk," "Lego black lbs," or "Lego black pound."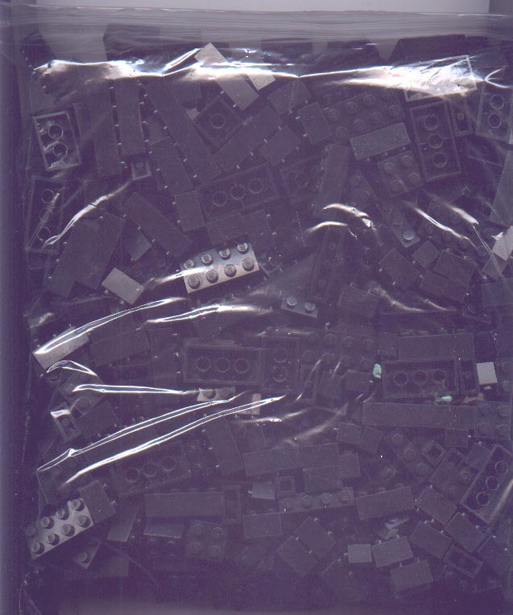 A 1.5 pound packet of black Legos on Ebay.
In Buy-Me-Mizer, here or here, I designed a William J "BLOCKowicz" wearing the clothes from when he jumps at the end of episode 1:
Head Gear: H5: Br Flattop
Face: F105.p.NBA1 or F49:y.Grumpypan or whatever you want
Torso: T127:Grey or T97:Grey (Or choose a similar grey color)
Hands: Hands:Pink
Legs: Legs: Grey (Or choose a similar grey color)
Accessory 1: BA12-AK, BA1-C96, or another gun, or Brown Dog, or Key
Neckwear: Nothing (But you might as well buy a spare neckware part for one of your Lego sets in case you need it, if it's included free. I included BlackJet in The picture because it reminds me of Astrostein.)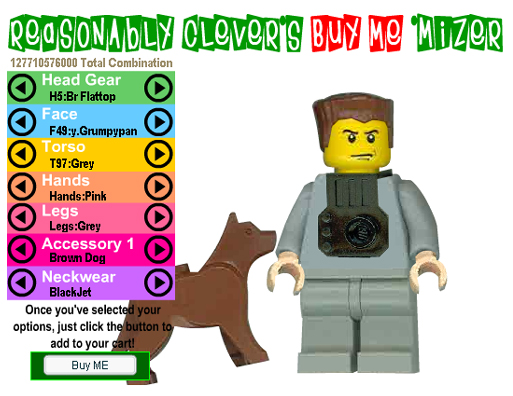 William J "BLOCKowicz"
If you buy a Wolfenstein 3D Pacman Level Lego set, then please give me credit for designing it.
If there are any problems with Lego Digital Designer, then let me know by email or by posting on this message board that I watch and I'll see what I can do. Contact me especially if you get an "Unable to parse file" error. If you buy one of the sets, then let me know. Snap a digital photograph of it finished and then email it to me.
Check out the sets that I made on my mocpages.com page:
In the meantime, I'll update you if I ever design the instructions or the box. Also in the meantime, I'll look up Lego games like Lego Doom 2, and Lego Quake, and update you later.
The Statue of Liberty that sold for $200 or $300 in 2000 is expensive on Amazon, Ebay and Bricklink, so maybe I'll make it in Lego Digital Designer in the meantime.
-Matt S.

Updates:

October 3, 2010

CBS Sunday Morning had 5 minutes today about Legos, Lego artists, and Lego fairs. I couldn't find an online video of it, but the article is here with a slideshow and links.
October 2, 2010

-The deadline for The Lego Digital Designer Halloween screenshot contest is October 17th, I believe. You can see the details by loading up Lego Digital Designer.
-Link to The Lego Lucas Oil stadium (The 9th Lego photo) is added.
-Links to the 2 Youtube videos of The March 2010 Indianapolis Lego Convention with the Lego Lucas Oil Stadium are added here and here.
-Update to Godel, Escher, Bach: An Eternal Golden Braid on Mocpages added.
-As of 5 pm Eastern Standard time, there are 11 Lego Call of Duty entries on Ebay. Just type in Lego Call of Duty. 3 of the entries are for Nazi Zombies. I believe that Call of Duty is somewhat like Return to Castle Wolfenstein. If you use them in a theme, then post the photos here.
Click on a picture to enlarge
May 8, 2010

Information about buying William J "BLOCKowicz" in Buy-Me-Mizer was added. Buy-Me-Mizer was added to the list of places to buy Lego guns.
May 6, 2010

I updated this page with information about how to maybe save money by buying set C and then buying black bricks on Ebay. The link to the message board is also added.
May 5, 2010

Does anybody know why The Lego Digital Designer box making feature and upload center have been down since at least May 2nd?